Bolt Together Panel Safe Room Storm Shelter
Our Bolt Together Panel Series is a perfect choice for customers looking for a Safe Room Storm Shelter that can be easily retrofitted in any room of your home or office. It's also a great option for customers who need a custom size Safe Room Storm Shelter (width options of 4', 5' or 6'). These shelters can be as long as you want in 1' intervals.
Bolt Together Panel Series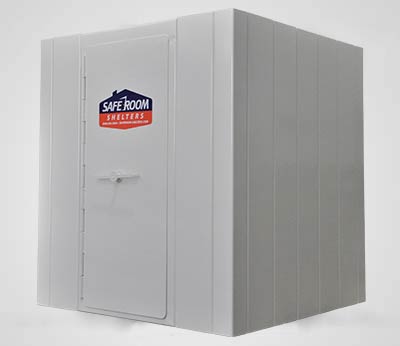 The Panel Series provides protection from intruders and storms (pistol rated). Our Shelters have passed 3rd Party Impact Testing and 250 MPH (EF5 Tornado) Wind Tests required by FEMA and ICC500 Regulations.
Each Bolt Together Panel Shelter comes with crush proof and bullet proof vents. The ventilation has a minimum of twice the air flow that's required by FEMA and ICC500 Regulations, eliminating the worry about getting enough air or if the vents would be crushed during a storm. The vents passed a direct hit from a 2x4 during the impact test and have been shot with a .44 mag. pistol with zero damage.
Entrapment is impossible. Simply remove a few nuts and bolts from ceiling and wall panels and remove the panel/panels. 12" ceiling panels bolts are welded on the exterior to keep bolt from turning during removal. Each Panic Safe Room Panel Series comes with the necessary wrenches for assembly and stay in shelter for emergency escape.
Let our factory trained installers install your shelter within 80 miles of Wichita Falls TX. Easy to understand instructions for self-installation or most any local contractor can install them. tools required for self-installation include a tape measurer, 3/4" wrench and socket, chalk line, hand dolly, concrete rotary hammer, 5/8" concrete bit, 15/16" socket and torque wrench that can be rented for the installation. Includes all necessary hardware. Takes 3-4 healthy strong people for installation. Heavy lifting is required
Any of our Panel Series kits can be easily moved when you move.