Rifle Rated Storm Shelter
AR500 Plate Panic Room Series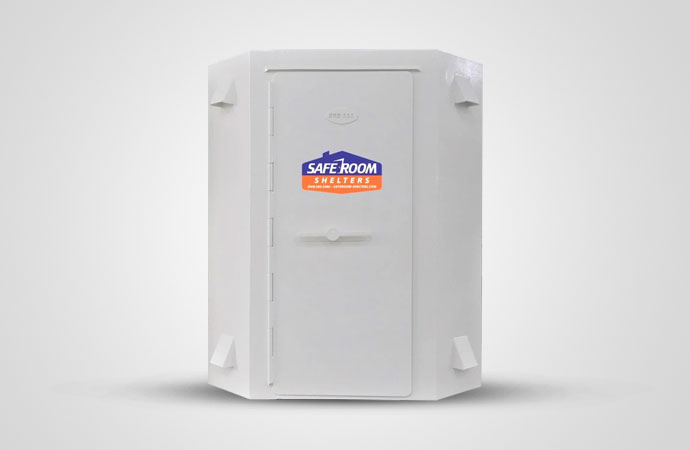 The AR500 Plate Panic Room Series is the perfect choice for people that are looking for a 3-in-1 protection (rifle rated) Safe Room Tornado Storm Shelter. It provides the best protection you can buy anywhere and peace of mind you have made the right decision for you and your family. Our AR500 Panic Safe Room Series have Passed 3rd Party Impact and 250 MPH (EF5 Tornado) Wind Tests required by FEMA and ICC500 Regulations.
Each AR500 Plate Panic Room Series comes with crush proof and bullet proof vents. The ventilation has a minimum of twice the air flow that's required by FEMA and ICC500 regulations, so there's no worrying about getting enough air or if the vent would be crushed during a storm. The vent has passed a direct hit from a 2x4 during the impact test and have been shoot with a .308 WIN. with zero damage.
Set up is easily done by setting the AR500 Panic Safe Room in place and anchoring with supplied anchors. Complete instructions will be included with each AR500 Panic Safe Room.
We provide factory setup within 80 miles of Wichita Falls, TX.
The AR500 Plate Plate Panic Room Series Specs
Meets or exceeds all design requirements in FEMA 320/361 standards, as well as ICC 500 building code requirements
Made in the USA in our state-of-the-art fabrication shop
1/4" AR500 US Steel Rifle Rated (up to 308win), meeting NIJ Level III (STD-0108.01) standards
Fully welded construction
Bullet proof vents
Ventilation exceeds the ICC 500 standards found in section 702 & 703 (table 702.1.1)
Door opening 29.50" x 69.50"
Full-length maintenance free door hinge with 22 oil-embedded flange sleeve bearings for long lasting performance
4 -1 inch stainless steel locking rods to secure door, and with a single turn of the handle all the locking rods operate at the same time
Door can be secured when in the Safe Room Tornado Storm Shelter
Anchored to concrete with 5/8" anchors
Each anchor has an uplift/pullout force of 14,725 pounds and a shear rating of 5,260 pounds (3000 psi uncracked concrete) exceeding ICC500 requirements in section 309.1.2.1
Sherwin Williams West Highland White paint color (SW7566)
Allow 15 business days from order date to shipping date from our facility. We try and stock most units for immediate shipping!
Note: Every tornado shelter is required to undergo an ICC-500 Missile Impact Test and be shot with a 2"x4" piece of lumber at 100 Miles Per Hour. Once our design passed this test with minimal to no damage, we put our Level III Panic Room Shelters under extreme conditions by shooting them with a .308 Winchester Rifle at the same required test locations using (308/7.62x51) 168 grain bullets. Without failure, our bulletproof design will protect you and your family from any intruder or natural disaster.  
Let Us Custom Build Your AR500 Plate Panic Room Tornado Storm Shelter
Building a new home, remodeling or have a specific size needed? We will custom build any size shelter to fit your exact needs. Fill out the Contact us page and we will get back with you immediately. Allow 4-5 weeks delivery.
Sizing your in-home Safe Room Tornado Storm Shelters:
3 square foot per person standing
6 square foot per person sitting plus allow room for your pets.
Note: Hurricane shelters require 7 square foot per person.
Please contact us for commercial sizing.